Upcoming Bass Hyper-Flute performance
The bass hyper-flute was developed in the IDMIL by Cléo Palacio-Quintin.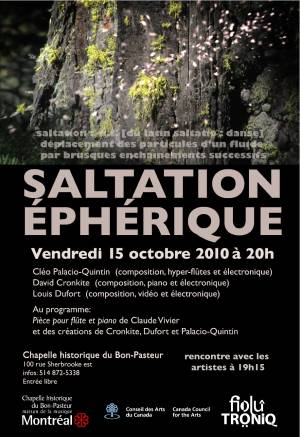 Vendredi 15 octobre 2010
Concert à 20h, précédés d'une présentation des artistes à 19h15.
Chapelle historique du Bon-Pasteur
100 rue Sherbrooke est, Montréal

Saltation éphérique

Avec : Cléo Palacio-Quintin (composition, hyper-flûtes et électronique)
David Cronkite (composition, piano et électronique)
Louis Dufort (composition, vidéo et électronique)

La saison démarre par un concert « électrisant » où Cléo se produit avec ses deux vieux comparses David Cronkite (pianiste et compositeur) et Louis Dufort (compositeur et vidéaste) avec qui elle a collaboré depuis 1998. Cléo y présentera une création pour hyper-flûte-basse et les deux compositeurs spécialistes de l'électronique en direct préparent aussi tous les deux de nouvelles oeuvres incluants hyper-flûtes, piano, électronique et vidéo. La création de ces nouvelles oeuvres a été réalisée lors d'une résidence des trois artistes au Centre d'arts de Banff en août 2010, avec l'aide financière du Conseil des arts du Canada.

Saltation: n.f. [du latin saltatio : danse] Déplacement des particules d'un fluide, par brusques enchaînements successifs.