This is an old revision of the document!
---
The Ballagumi
Participants:
Avrum Hollinger
Marcelo M. Wanderley (supervisor)
Mahtab Ghamsari-Esfahani
Funding:
Canadian Foundation for Innovation (Zatorre & Wanderley)
NSERC Discovery Grant (Wanderley)
CIRMMT student funds (Ghamsari-Esfahani) 2011-2012
Project Type:
Novel Musical Instrument, MRI-compatible
Time Period:
2008– (Ongoing.)
Project Description
The Ballagumi is a silicone form embedded with fibre-optic sensors. It responds to deformations such as bending, twisting, prodding, and slapping holistically, as the flexible substrate ensures that a deformation in one local propagates to the rest of the instrument. Conceived as a controller for physical modelling synthesis, with its many intertwined sensors mapping on to the myriad parameters of a dynamical system.
Mapping of deformation on to sound is a complex task, involving explicit mappings and gesture classification using machine learning techniques. The Ballagumi is currently being used to explore mapping and its interaction with performance gestures, with the goal of using it on the perfomance stage, in neuroscience studies, and for physical rehabilitation.
---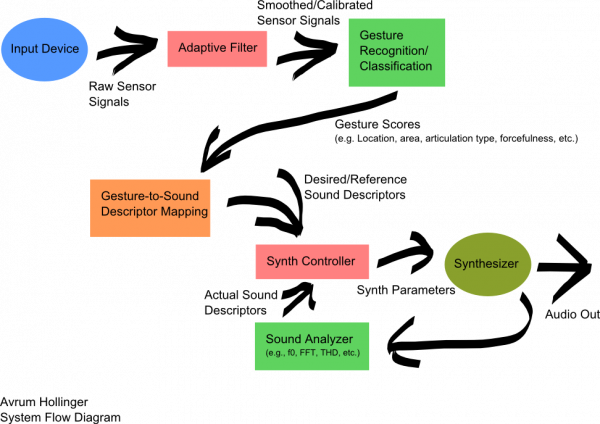 ---
Publications
Joseph Malloch, Stephen Sinclair, Avrum Hollinger and Marcelo M. Wanderley.

"Input Devices and Music Interaction"

In Jorge Solis and Kia Ng, eds.

Musical Robots and Interactive Music Systems

, Springer Verlag, 2011.